L wie Longe, feine Hilfen an der ~

Zum deutschen Text? Bitte runterscrollen...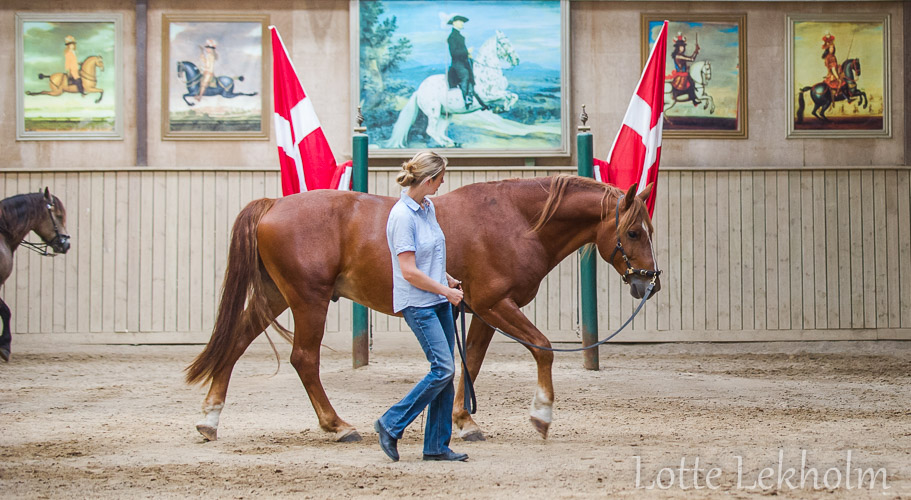 Details with significant effect:
delicate aids with the longe
One little detail in longing keeps popping up in my lessons with new students. So I decided to share my suggestion for improving the longing aids with you this way.
In the Academic Art of Riding we begin the longe work with our focus on two details: the horse should become able to bend and to lengthen the upper line by stretching forward and down. For inviting their horse to stretch forward and down into the bending we have three main aids we can use: little signals with the longe, bodylanguage and the whip. I assume that the longeur is only using a cavesson, a longe and a whip as an extension of his arm. Today my focus is on the signals we give with the longe.
With the intention to invite the horse to bend and to stretch, many students step into the trap of pulling with their hand towards the centre of the circle. I tried to capture this moment in these pictures. Raya is "longing" me. In the first picture she stretches her hand forward. An educated horse might respond to this "giving" by stretching forward down. But the second picture illustrates how many instinctively try to pull the horses nose into the circle, when the horse does not stretch into the bending.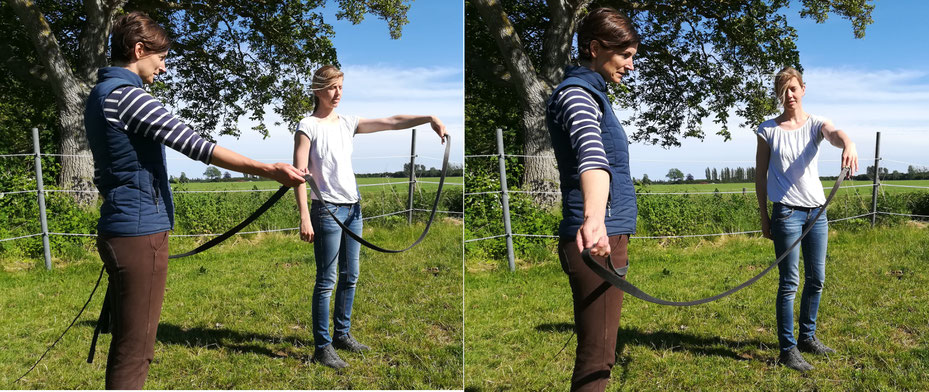 This can cause problems for different reasons:
1st: When the effort is not successful and the horse does not get supple in the bending, the longeur will keep repeating this aid in order to solve the problem. He well stretch his arm towards the centre and it will stiffen. His hand gets insensitive for the communication. The giving after each halt is too small or is forgotten completely.
2nd: As the movement of the hand holding the longe is most often coming from the shoulder,  the longeur is working with a huge leverage effect. How this feels for the horse you can try with the little experiment shown in the pictures: Ask a friend to hold the longe with his hand arm stretched out. You will notice, that instead of inviting the horses nose and forehead to turn to the inside, the longeur pulls the entire neck of the horse (in the experiment represented by your friends arm) to the inside. The horse, in turn, will either overbend (staying stiff in the poll and in the back) or it will stay stiff and "straight" in the whole body. In both cases the horse will be heavy on the shoulders.
                                                                                                    
Now, this is what you can try if you feel like I have just described some of your struggles with the longing:
As a basic position for the longeur I recommend that (s)he turns his/her shoulders into the direction of movement. In the beginning I chose a distance that makes it easy to touch the horse with the whip in the place of an inside leg without big effort. The hand which is closer to the horse holds the whip (and those loops of the longe we don't need), the other hand holds contact to the horse with the longe. The hand with the longe can now be used to give small halts. These halts are never given by moving the hand away from the body, but always by moving it towards the body or lifting it a little. We tried to captchure it in the following pictures.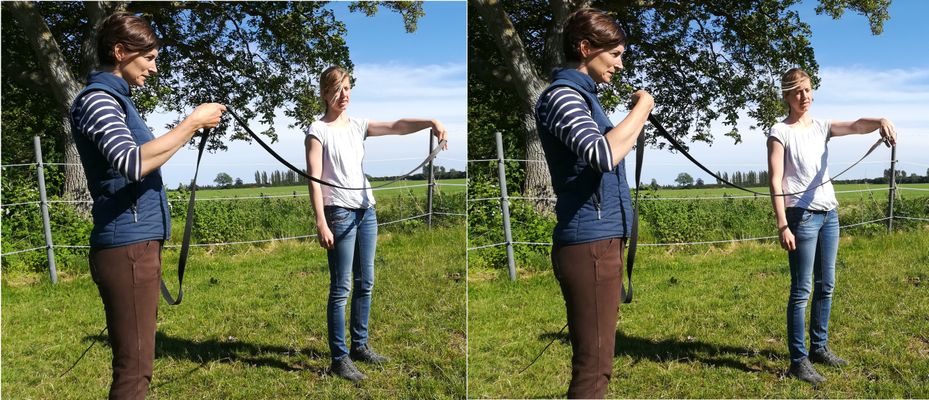 This has two benefits:
1st: The movement of this hand can't become too big, because the longeur will be forced to give again. When the hand repeatedly returns to its basic position it will stay supple and sensitive.
2nd: This direction of movement (of the hand) will have a bigger effect on the horses poll. Repeating the little halts AND the giving will invite the horse to trust the softness of the hand and to let go of the tension which it built up earlier in order to protect its neck from harsh pulling of the hand. As soon as this tension is released the spine will start to rotate and the horse will find the bending. In most cases the horse will drop its neck and nose as soon as it can take the bending.
As the longe itself  is only one part of the aids we use in longing, I will soon write about a basic exercise which I use to achieve and to  improve the lateral bending and the stretching. This will be about the use of the whip as an "inside leg". Have a good time with the horses!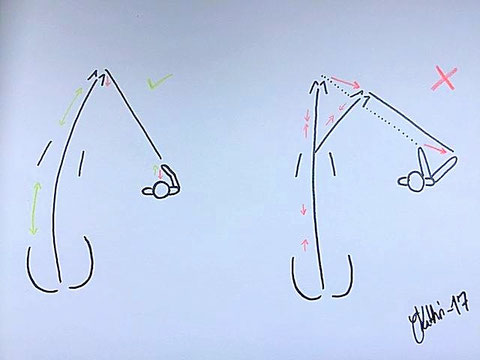 Details mit großer Wirkung:
Feine Hilfen an der Longe
Ein kleines Detail der Longenarbeit wird im Unterricht mit meinen Schülern immer wieder Thema. Deshalb kommt heute dieser Vorschlag zum Ausprobieren für alle Interessierten.

In der Akademischen Reitkunst stehen beim Longieren stehen anfangs zwei Dinge im Fokus: das Pferd soll bereit sein sich zu biegen und vorwärts abwärts zu strecken. Um zum Abwärtsstrecken einzuladen und zur Biegung aufzufordern haben wir "nur" drei Ansatzpunkte: kleine Paraden an der Longe, die Körpersprache und die Gerte. Ich gehe davon aus, dass der Longeur als Werkzeuge ausschließlich einen Kappzaum, eine Longe und eine Gerte als Verlängerung seines Arms verwendet. Mir geht es heute um die Paraden an der Longe.

In der Absicht die Nase vorwärts abwärts in eine Biegung zu locken kommt man leicht in die Versuchung mit der Longenhand an der Longe den Kopf des Pferdes nach unten innen ziehen zu wollen. Wie das aussieht, zeigen die ersten Bilder. Im ersten Bild streckt Raya die Hand vor sich aus, auf dieses "Nachgeben" würde ein ausgebildetes Pferd mit einem Abwärtsstrecken reagieren. Streckt das Pferd sich jedoch nicht in die Biegung, reagieren viele instinktiv mit Zug nach innen: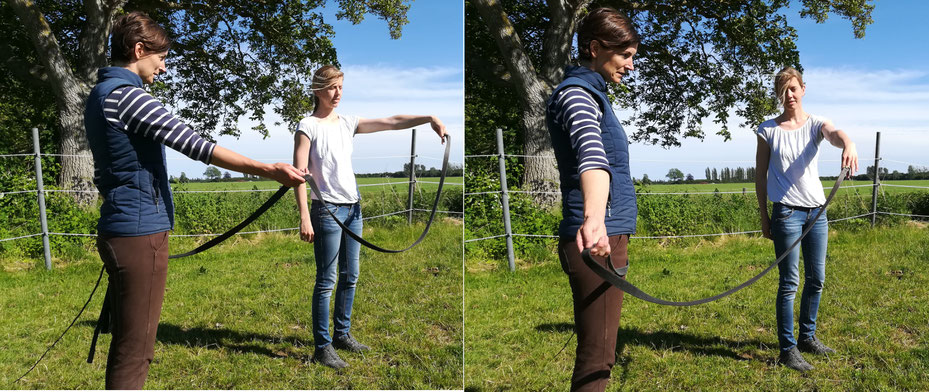 Dies kann aus folgenden Gründen problematisch sein:
1. Wenn man keinen Erfolg hat, wandert die Longenhand immer weiter nach innen, der Arm versteift sich und wir können nicht mehr gefühlvoll spüren. Das Nachgeben nach jeder Parade wird vergessen oder kommt zu kurz.
2. Dadurch, dass die Bewegung aus der Schulter heraus geführt wird ist mit dem Arm des Longeurs ein enormer Hebel aktiv. Das in den Bilder gezeigte Experiment mit einem anderen Menschen am anderen Ende der Longe verdeutlicht leicht, wie diese ausladende "Hilfe" im Pferdekörper ankommt: anstatt ein Nach-Innen-Wenden der Nase und eine Rotation in der Wirbelsäule zu erzielen, zieht der Longeur den ganzen Hals nach innen. Das Pferd "überbiegt sich" (wobei Genick und Rücken fest bleiben) oder bleibt ganz steif und "gerade". In beiden Fällen fällt es auf die Schulter.
Nun mein Vorschlag zum Ausprobieren, wie man die Longe stattdessen einsetzen kann:
Als Ausgangsposition schaut der Longeur in Bewegungsrichtung und hat auch seine Schultern in diese Richtung gewandt. Für den Anfang bevorzuge ich einen Abstand vom Pferd der klein genug ist, dass ich das Pferd ohne großen Aufwand mit der Gerte in der Schenkellage berühren kann. Die Hand, die dichter am Pferd ist, hält die überschüssige Länge der Longe und die Gerte. Die andere Hand kann nun für kleine Paraden eingesetzt werden.  Diese Paraden haben ihre Richtung aber nie vom Körper des Menschen weg, sondern immer auf ihn zu und evtl. ein wenig nach oben, wie in den nächsten Bildern gezeigt.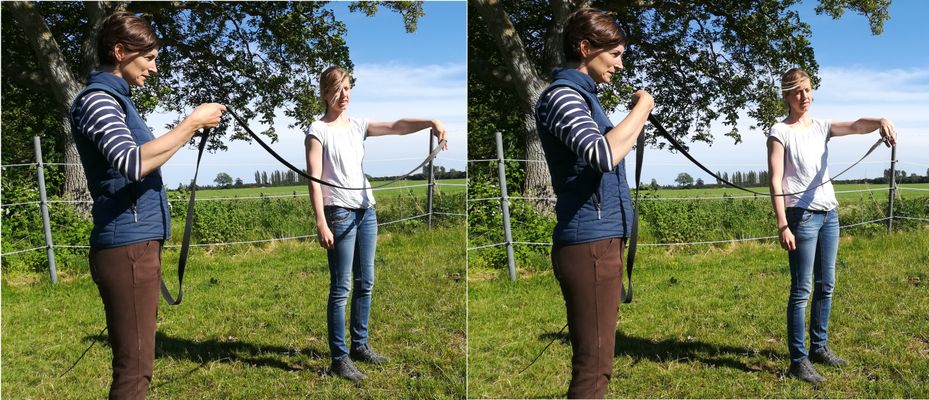 Die daraus entstehenden Vorteile:
1. Die Bewegung der Longenhand kann nicht sehr groß werden, bevor der Longeur gezwungen ist nachzugeben, weil sein eigener Körper "im Weg" ist. Die Hand bleibt dadurch lockerer und gefühlvoller.
2. Die Bewegungsrichtung der Hand wirkt auf das Genick des Pferdes ein. Dieses traut sich bei wiederholten kleinen Impulsen, denen zuverlässig das Nachgeben folgt, die Schutzspannung in der äußeren Oberlinie aufzugeben, sodass die Wirbel rotieren und das Pferd sich gleichmäßig biegen kann. Sobald eine echte Biegung eintritt, folgt in der Regel nahezu reflexartig das "Fallenlassen" des Halses".
Da die Longe beim Longieren nur einen Teil der Hilfengebung ausmacht, erkläre ich im nächsten Artikel, mit welcher Basisübung  ich bei meinen eigenen Pferden Stellung, Biegung und Abwärtsstrecken erarbeite und verbessere. Dann geht es um den Einsatz der Gerte als "inneren Schenkel". Bis dahin: viel Spaß bei den Pferden!